Prof. Brian Schrank (call me Brian)
bschrank [at] gmail.com
14 East Jackson Room #212 Loop Campus
DePaul University, College of Computing and Digital Media
Course Description
Students learn to create, appreciate and advance games as an artistic medium in this workshop. Art games challenge the conventional wisdom of what games are, why and how we play them, who can make them, and the role they perform in popular culture. "Art" has different roles in culture, from the formal and aesthetic to the political or confrontational. Students will survey the field of art games to understand how they may advance the medium in different ways through innovative, experimental, or critical play. Students will iteratively develop a series of art games (paper or digital) throughout the course. In addition, they will play and critique games made by today's leading independent and avant-garde artists. No prior experience or knowledge is required.

Weekly Effort
Success in this course requires consistent, weekly effort. The games you will develop in this course will be very experimental. They will likely be the coolest (or weirdest) games you have ever made, but they will also demand more from you to make than a normal game. They demand wilder brainstorming; they demand outside-the-box problem-solving to prototype; they demand braver iterations to get right; and they demand more from your average player so playtesting itself will prove challenging.

Open Minds
Success in this course requires a very open mind. Just as game designers must be smarter and more intentional than their best players, artists have to be more creative and experimental than the best designers... or else they are only iterating on the medium of games rather than truly breaking boundaries and redefining the medium of games. One of the goals of this class is for you to create new kinds of games. To accomplish that you will have to take risks and work far, far outside of your comfort zone. You will know how well you are doing in this course by how uncomfortable you are developing your games.

Failure is an option.
If you worry too much about making the best possible game, you will only make crap art games. You need to learn to both let go and hold on to be a great artist. Here is that concept graphed out for you:
-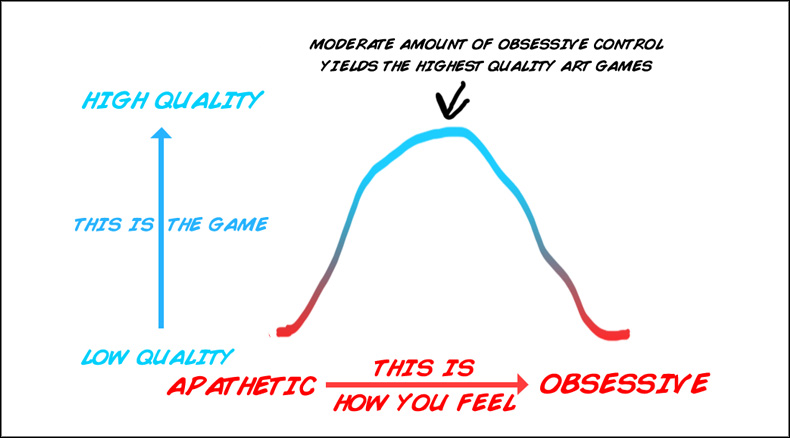 -
Stay loose and open yourself to change.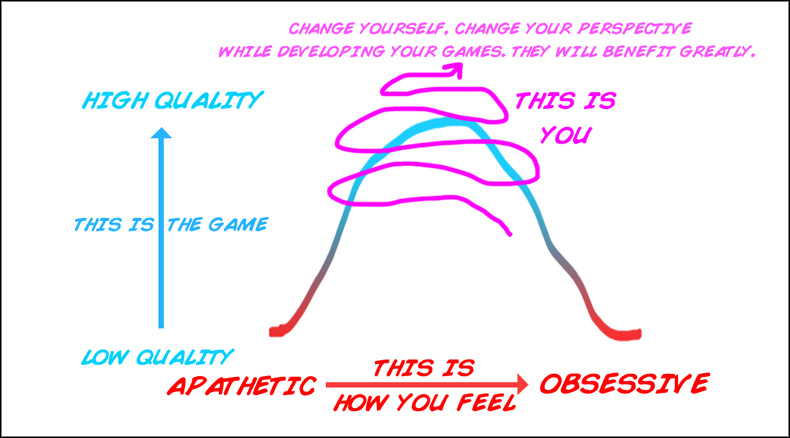 Final Grade Calculation:
Being Kind and Helpful = 5%
Being Vocal and Participatory = 10%
Analytical Play and Critique = 20%
Play and critique games/events by peers and others
Postmortems
Art Game Development Projects = 65%
Formal Art Game = 15%

Political Art Game or Event = 15%

Collabojam Art Game = 10%

Final Art Game = 25%
LETTER GRADE TO POINT SYSTEM CONVERSION:
A (90-100+), B (80-89.999), C (70-79.999), D (60-69.999), F (below 60).
Cell Phones and Mobile Devices
Cell Phones and Mobile Devices should not be audible (including audible vibration) during class. Any student who answers a cell phone during instruction will be excused for the day.
Disabilities
Students who feel they may need an accommodation based on the impact of a disability should contact the instructor privately to discuss their specific needs. All discussions will remain confidential. To ensure that you receive the most appropriate accommodation based on your needs, contact the instructor as early as possible in the quarter (preferably within the first week of class), and make sure that you have contacted the Center for Students with Disabilities (CSD) at:
Student Center, LPC, Suite #370
Phone number: 773-325-1677
Fax: 773-325-3720
TTY: 773-325-7296